For more detail and recent information, please check the progress sheet; (Progress on Off-site Cleanup and Interim Storage in Japan (January, 2016))

,
or please visit Decontamination Information Plaza in Fukushima City

.
LEGAL FRAMEWORK DEVELOPMENT : August 2011 – January 2012
The "Act on Special Measures Concerning the Handling of Radioactive Pollution"

was enacted in August 2011, in response to the unprecedented situation of radioactive pollution after the accident at TEPCO's Fukushima Daiichi Nuclear Power Station. The Ministry of the Environment (MOE)

became the responsible authority for decontamination. The "Basic Principles" and related orders for handling radioactive pollution were established and the Act came fully into force on January 1, 2012. Thus, a new policy framework for the off-site decontamination has been arranged, under which decontamination works have been steadily implemented under the responsibility of the national government.
DESIGNATED DECONTAMINATION AREAS
There are two categories of contaminated areas under the Act

. The first one is the "Special Decontamination Area", where decontamination is implemented by the national government. It includes 11 municipalities in Fukushima Prefecture. The second one is the "Intensive Contamination Survey Area", where decontamination is implemented by each municipality with financial and technical supports by the national government. As of June, 2013,  100 municipalities in 8 prefectures, in which over 1mSv/y of additional exposure dose were observed, were designated under the Act.
PRIORITY, GOAL and ROADMAP of DECONTAMINATION
The Basic Principles under the Act provide a decontamination policy, and the priority is to be placed on areas where decontamination is required from the view point of human health; specifically, public facilities, commercial facilities, residences, farmlands, roads, forests (those areas within 20m from the living environment), etc. Among them, the living environment for children is given the high priority.
The goals of decontamination set in the Basic Principles, which are consistent with the recommendations of the ICRP and the Nuclear Safety Commission of Japan, are as follows: Based on the above priority and targets, MOEJ developed "The Policies for the Decontamination of Specific Areas (Decontamination Roadmap)" in January, 2012, including basic idea and short-term roadmap of decontamination.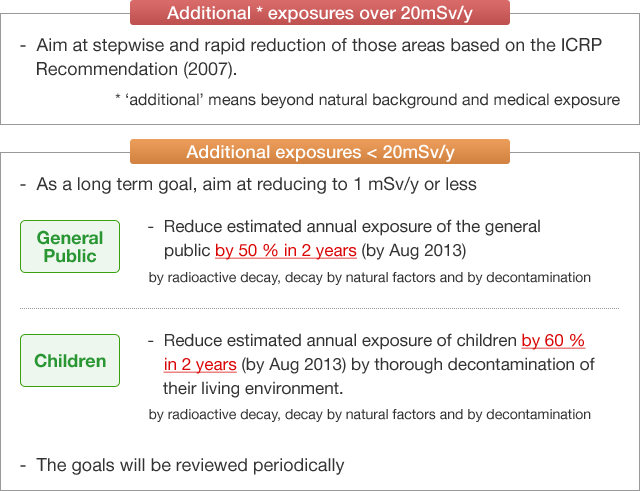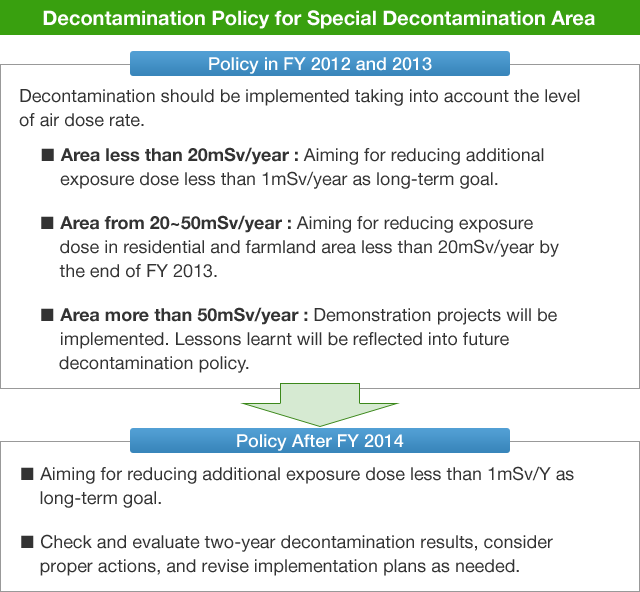 IMPLEMENTATION PLAN
By the end of July 2013, decontamination plans for 10 municipalities in Special Decontamination Areas was formulated by MOE, and decontamination work has been started accordingly. In Intensive Contamination Survey Areas, 94 municipalities out of 100 designated municipalities have developed their decontamination plans, and decontamination works have been implemented steadily. These plan show target, priority, schedule, steps of works, monitoring, and other relevant measures.
DECONTAMINATION TECHNOLOGY and METHOD
MOE produced list of specific decontamination methods in the Ordinance for Enforcement of the Act, and published the Decontamination Guidelines to provide concrete descriptions on each process of decontamination works, based on scientific and technical expertise obtained domestically and from abroad. In order for municipalities to adopt other technologies/methods, they consult with the MOE and MOE will make a decision on a case-by-case base.
The MOE has also been conducting the technology demonstration projects for decontamination, aiming to promote the development of such technologies for effective and efficient decontamination and for the volume reduction of removed soils and wastes. The results of demonstration are to be published with the evaluation from the viewpoints of effectiveness, economic efficiency and so on.
MANAGEMENT of SOILS and DEVELOPMENT of STORAGE SITE
The removed soils generated from decontamination works have been stored in temporary storage sites or be kept safely on the spot, with safety countermeasures effectively taken to prevent discharge and drainage of radioactive materials, or to shield radiation.
While these storage sites should be installed in community-level in a local municipality, most of municipalities are now facing difficulty in securing the sites from the viewpoint of social acceptability. In addition, in Fukushima prefecture, the national government is under consultation with stakeholders to install interim storage facility to store and manage safely a large amount of removed soils, etc during the period until the time of their final disposal.
FINANCIAL MEASURES
As for financial measures, the national government shall take measures to finance all the costs for off-site decontamination based on the Act on Special measures. These costs of the measures taken under the Act will be consequently requested TEPCO to cover. The budget for decontamination, including the cost for handling removed soil and waste as well as managing off-site waste contaminated with radioactive materials, is about JPY 1.9 trillion (about US$ 19 billion) as of April 2014.
ACHIEVEMENT of TARGET for August 2013
The targets to reduce annual additional exposure for general public and children by 50% and 60% respectively by August 2013, set in the Basic Principles, were tentatively evaluated by using monitoring data available from places where decontamination has been completed so far. As a result, it was estimated that both of targets could be attained.
PROGRESS and POLICY REVIEW: September 2013
In Special Decontamination Area, decontamination work was completed in one city (Tamura City) in accordance with the implementation plan in June 2013. Since local circumstances differ from one area to another, difference has been observed on the progress among municipalities. MOE announced that decontamination work will be implemented in cooperation with reconstruction measures in accordance with the situation of each municipality, and will revise the current plans and schedules of works. Accordingly, decontamination in some cities will be completed beyond spring of 2014.
MOVIE – Living in Fukushima : Stories of Decontamination and Reconstruction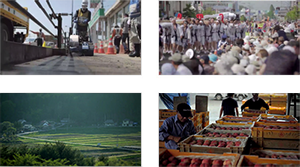 Living in Fukushima : Stories of Decontamination and Reconstruction
*Link to the Decontamination Information Plaza site.
MOVIE – Nasubi no Gimon ("Nasubi's investigation")

Episode 1: Are temporary storage sites safe?

Episode 7: How much soil is removed during the decontamination of residential land?
Episode 10: How much radiation are we exposed to in a year?
Link