HOME
>
Interim Storage Facility
Interim Storage Facility
What is the Interim Storage Facility (ISF)?
In Fukushima Prefecture, large quantities of removed soil and waste have been generated from decontamination works. It is estimated that the volume will be approx. 16 ~22 mil. m3 after incineration of combustibles.
The Interim Storage Facility is necessary to safely and intensively manage and store the soil and waste until final disposal.
Removed soil, waste (such as fallen leaves and branches), and incinerated ash (> 100,000 Bq/kg) are stored.


* In principle, combustible materials will be incinerated, and incinerated ash will be stored.
Estimated Volume in the Interim Storage Facility
Estimated volume of generated soil, etc. from decontamination works (in case of 22 million m3)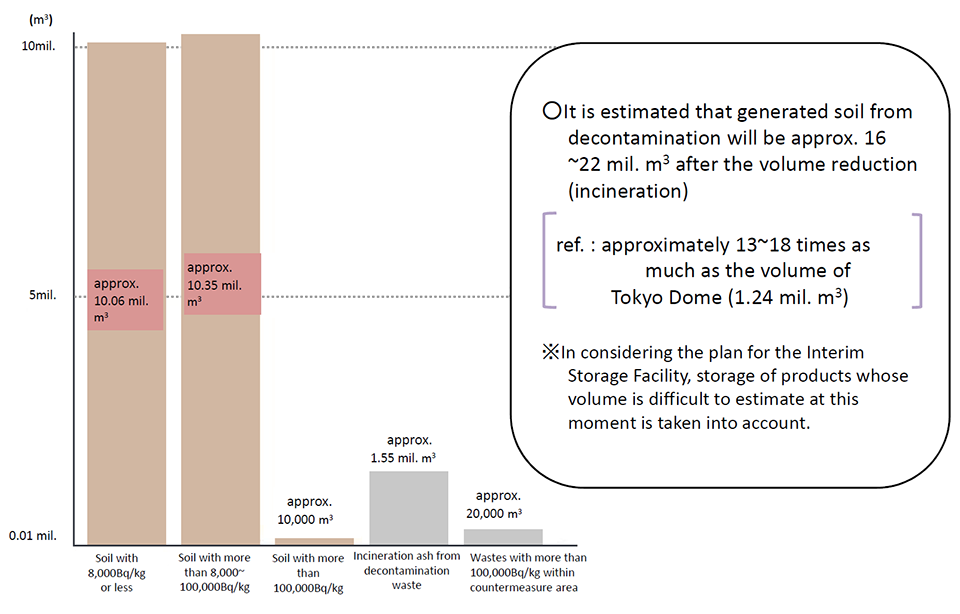 Progress of Land Acquisition of the ISF
As of the end of August 2018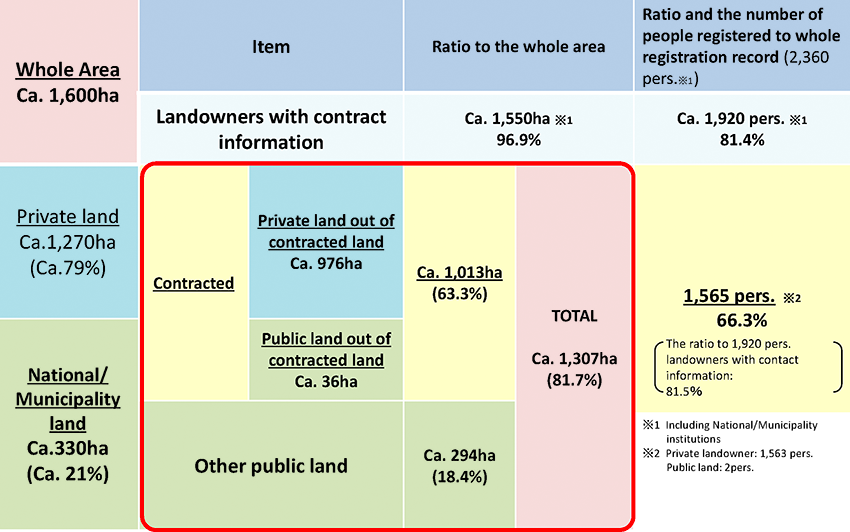 Reception/Separation/Soil Storage Facility
Soil storage facility started the operation in October 2017 in Okuma and in December 2017 in Futaba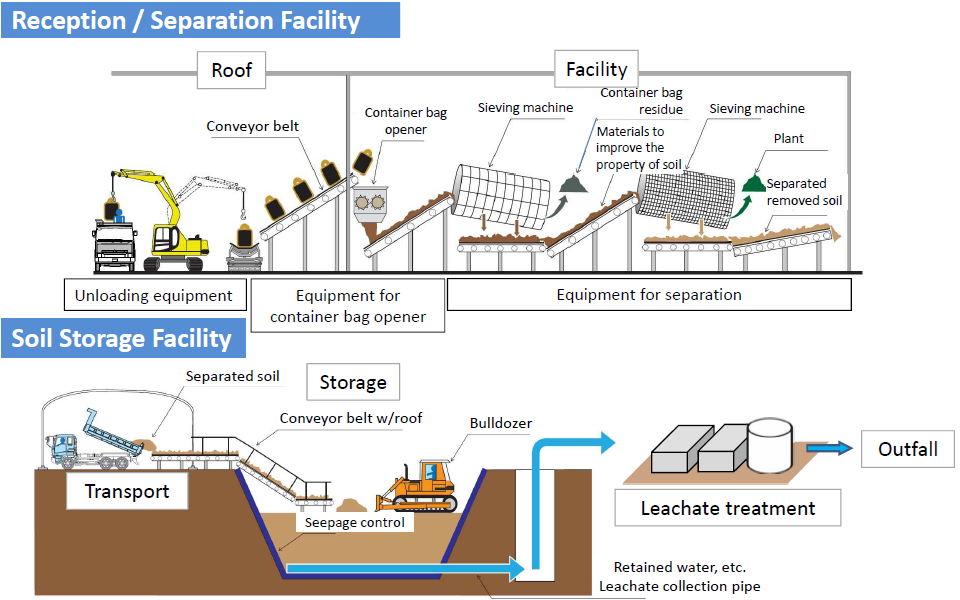 Transportation to the ISF
By July 4, 2018, accumulative total of 1,000,000m3 of removed soil was transported
In FY2018, approx. 1,800,000m3 will be transported
Safe and secure transportation will be sequentially conducted managing whole numbers of transport objects, managing traffic of trucks, and implementing environmental monitoring, and etc.
< Actual achievement >

As of September 6, 2018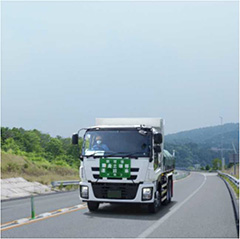 A truck transporting removed soil
Prospect for 5year Ad-hoc Policy on Interim Storage Facility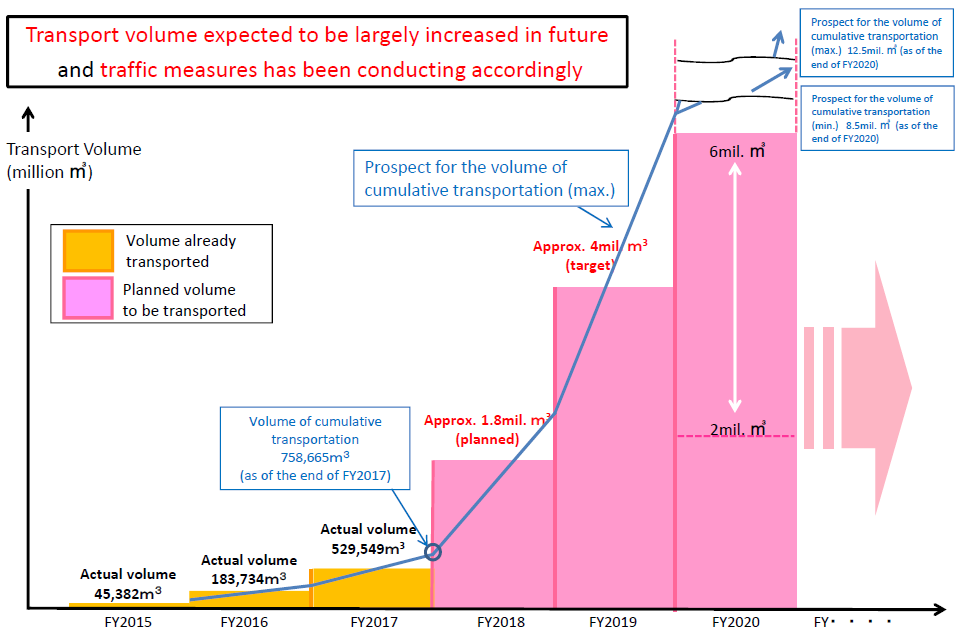 8 Steps towards the Final Disposal outside Fukushima Prefecture within 30 years from the Start of the ISF
MOE conducts R&D to examine how the final disposal to be implemented taking into account the effect of radioactive decay and the potential of volume reduction and recycling
MOE disseminates, for public understanding, the information on recycling less radioactive material and the final disposal outside Fukushima Prefecture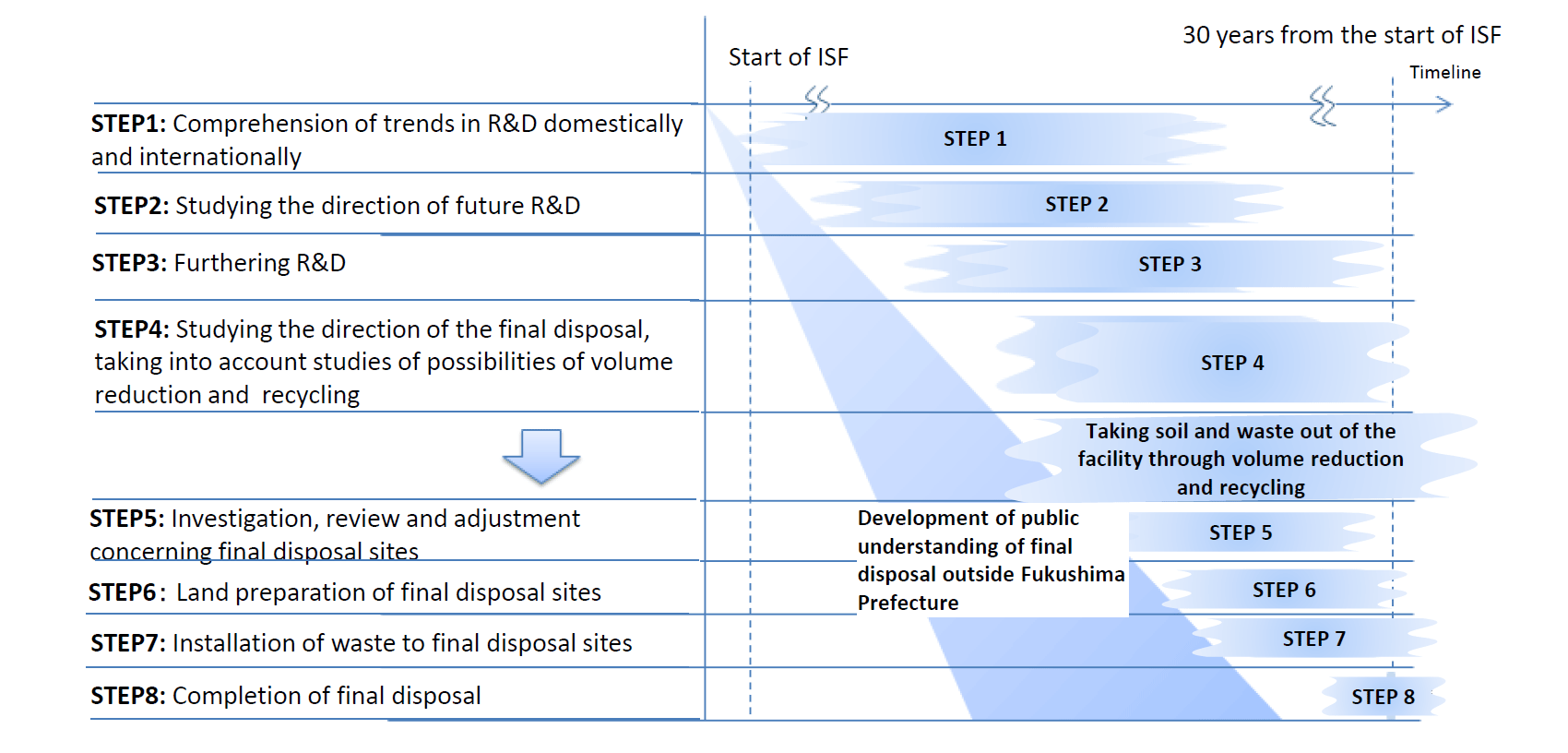 Technology Development Strategy for Volume Reduction & Recycling of the Removed Soil
Towards the final disposal of the removed soil outside Fukushima Pref., MOE will promote recycling of the soil after volume reduction technology as much as possible, which consequently would lead to reduce the volume of soil for the final disposal
After clarifying the objectives and priority of technology development and volume reduction & recycling, basic technology development is planned to be completed within 10 years, then move onto a phase of treatment
On the premise of securing safety, MOE will try to realize the recycling in the possible field, building public understandings for the safety
Based on technology development and prospect of recycling in the future, MOE would propose some options for structure and necessary dimension of the final disposal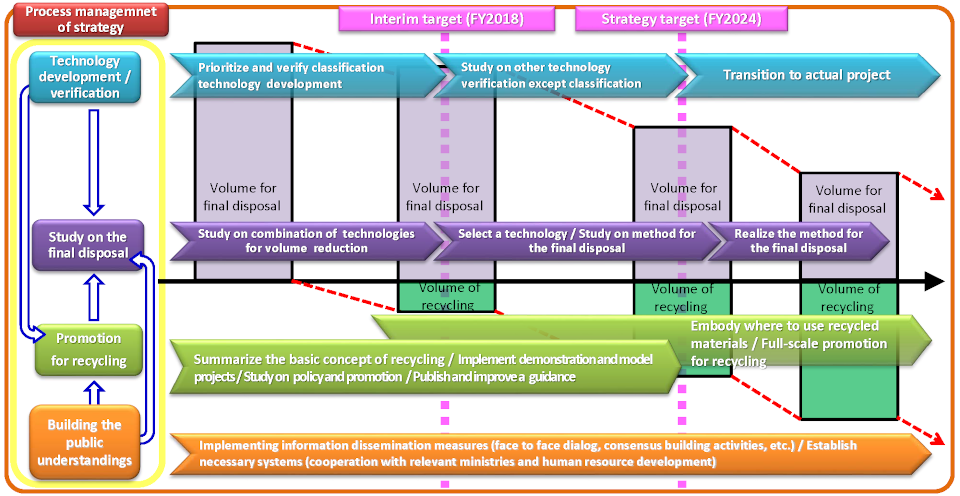 Concept on Safe Use of the Removed Soil after Recycling
< Basic Concept >
The removed soil should be used mainly for public projects with a responsible management system for the controlled materials (with a radioactivity level below 8,000Bq/kg in principle and set according to purpose) after necessary treatment, e.g. removal of debris, classification treatment. The use will be limited, such as the basic structure material of an embankment which is not assumed to change shape artificially, and be managed appropriately.
< Limited Use >
The use will be limited to the material which is not assumed to change shape artificially for a long time period, e.g. basic structure material of banking for coastal levees or seaside protection forests, embankment materials for roads, cover soil for waste disposal sites, landfill materials and basic structure for farms of flowers and energy crops.
< Appropriate management >
The projects will be mainly public projects with a responsible management system.
The radioactive cesium concentration in the removed soil should be limited in order to confine the additional exposure dose. The additional exposure dose should be below 1mSv/y during the construction and below 0.01mSv/y at the time of service.
Covering soil should be installed, scatter and leakage should be prevented, ground form change should be observed, and the data should be recorded.

< How to proceed recycling >
As the environmental improvement towards the practical recycling of the removed soil, demonstration projects and model projects based on the above concepts should be implemented keeping the safety against radiation, studying specific verification of the management method and building stakeholders' and public understanding.
Demonstration Project for Recycling in Minamisoma City
Demonstration project is currently being implemented in Minamisoma City, studying specifically on handling radiation during the procedure of recycling and ensuring the quality of the recycled soil as construction material in order to promote safe recycling and reuse of the removed soil in a step by step manner.