Progress in the Special Decontamination Area (as of April 1, 2017)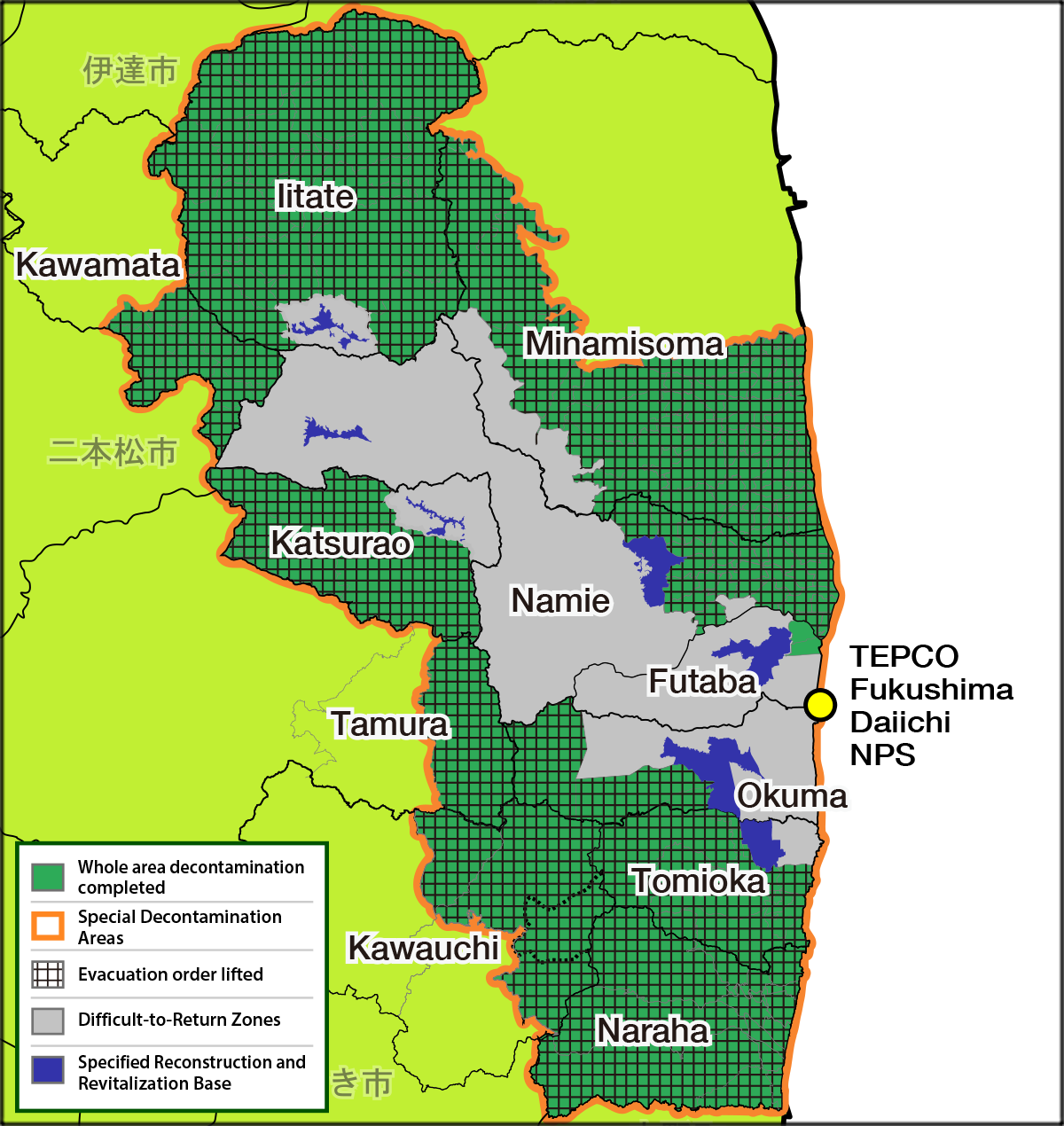 Municipalities in which evacuation orders were lifted
Municipality
Evacuation order was lifted on
Tamura city
April 1, 2014
Kawauchi village
October 1, 2014*1/June 14, 2016*2
*1:Former Areas to which evacuation orders are ready to lift up
*2:Former Areas in which residents are not permitted to live
Naraha town
September 5, 2015
Katsurao village
June 12, 2016
Minamisoma city
July 12, 2016
Iitate village
March 31, 2017
Kawamata village
March 31, 2017
Namie town
March 31, 2017
Tomioka town
April 1, 2017
Municipalities in which whole area decontamination were completed
| Municipality | Completion of decontamination |
| --- | --- |
| Tamura city | June 2013 |
| Naraha town | March 2014 |
| Kawauchi village | March 2014 |
| Okuma town | March 2014 |
| Katsurao village | December 2015 |
| Kawamata town | December 2015 |
| Futaba town | March 2016 |
| Iitate village | December 2016 |
| Tomioka town | January 2017 |
| Minamisoma | March 2017 |
| Namie | March 2017 |
Completion of the Decontamination in SDA (as of the end of March 2017)
Municipality
Residential area
Farmland
Forest
Road
Evacuation order was lifted on
Number of implementated houses
Implemented area ha
Implemented area ha
Implemented area ha
Minami
soma
4,500
1,700ha
1,300ha
270ha
July 12, 2016
Namie
5,600
1,400ha
390ha
210ha
March 31, 2017
Tomioka
6,000
750ha
510ha
170ha
April 1, 2017
Iitate
2,000
2,100ha
1,500ha
330ha
March 31, 2017
Futaba
97
100ha
6.2ha
8.4ha
-
Kawamata
360
600ha
510ha
71ha
March 31, 2017
Katsurao
460
570ha
660ha
95ha
June 12, 2016
Okuma
180
170ha
160ha
31ha
-
Kawauchi
160
130ha
200ha
38ha
Former Preparation Areas for
lift of Evacuation Order :
October 1, 2014 Former
Habitation Restricted Areas:
June 14, 2016
Naraha
2,600
830ha
470ha
170ha
September 5, 2015
Tamura
140
140ha
190ha
29ha
April 1, 2014
Total Number
22,000
8,500ha
5,800ha
1,400ha
"Forest" means that is close to residential area
MOE will continue decontamination if we get new consents from the residents
For more detail and recent information, please check the progress sheet;
Progress on Off-site Cleanup and Interim Storage in Japan January 2018 (Post date:2018.01.30)

Progress in the Intensive Contamination Survey Area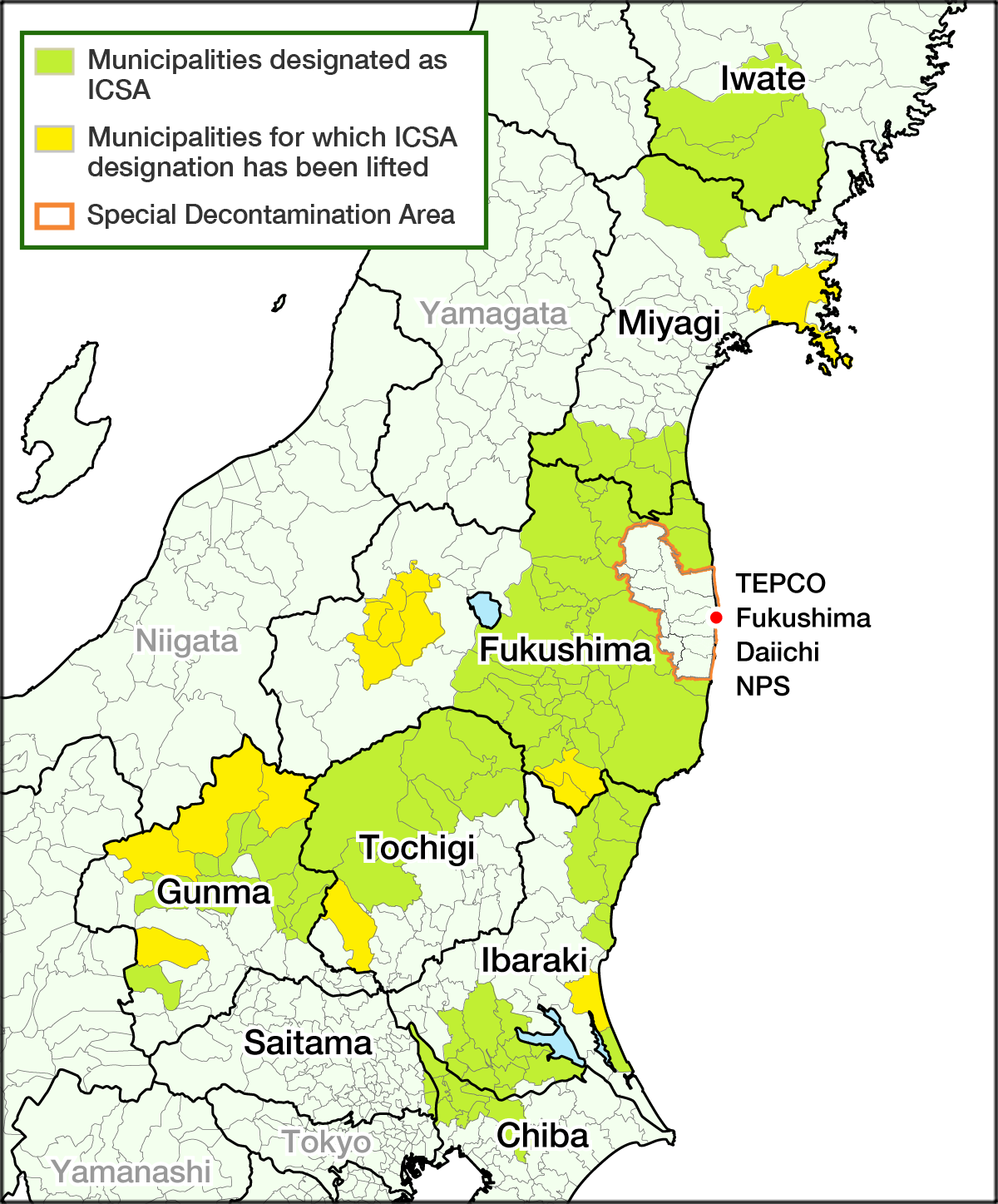 ※Progress of the whole area decontamination as of the end of December 2017
Number of municipalities designated as the Intensive Contamination Survey Area:
104 (at the start) → 92 (at present)
The designation was lifted in 12 municipalities due to the radiation dose decrease, etc.
Municipalities in which the progress is 100%:
89 municipalities
Municipalities in process of implementing decontamination based on the plans:
3 municipalities
The progress of decontamination
•In Fukushima Pref. (as of the end of December 2017):
Residential houses / Public facilities : Completed Roads/Farmland & meadows / Forests in living areas:almost completed
•Outside Fukushima Pref. (as of the end of March 2017):
Residential houses / Schools & nurseries/ parks, sports facilities / Roads / Farmland & meadows/ forests in living areas: completed in all categories
For more detail and recent information, please check the progress sheet;
Progress on Off-site Cleanup and Interim Storage in Japan January 2018 (Post date:2018.01.30)

Effects of Decontamination Work
Air dose rate at the height of 1m from the ground / Transition according to land category

The chart shows air dose rate average in each category (aggregated data of measuring points).
Post-decontamination monitoring was implemented after 6 months to a year after the decontamination work.
The latest result of post-decontamination monitoring in municipalities were summarized (the first or the second)
[Implementation period]
Monitoring before decontamination : Nov. 2011 - July 2016
Monitoring after decontamination : Dec. 2011 - Sep. 2016
Post decontamination monitoring : Oct. 2014 - Dec. 2016
Air dose rate above 1m from the ground Dose Volume Histogram(n=374,017)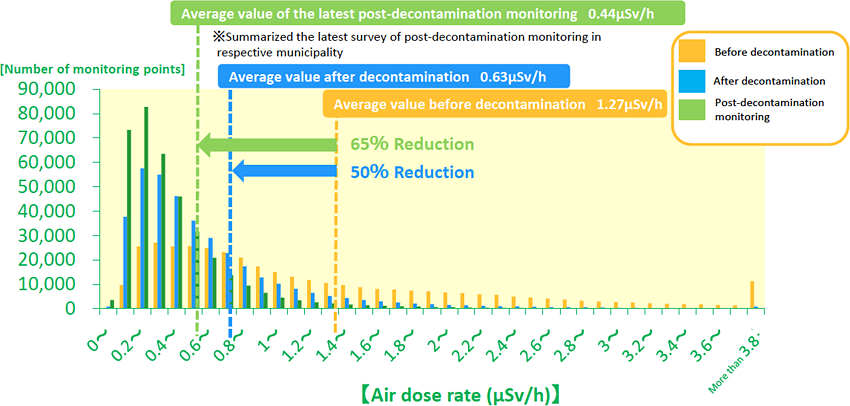 The frequency distribution chart shows air dose rate of residential area, farmland, forest and road before & after decontamination (summarized data on measuring points)
In residential area, implemented measuring at about 10points on each property in order to study average dose rate in an area
Whole SDA
*Only in areas with the data, excluding Areas where it is expected that the residents have difficulties in returning for a long time
Transition of the Air Dose Rate
Compared air dose rate of 7months after the accident (as of Nov. 5, 2011) with that of 67months after the accident (as of Oct. 15, 2016), 71% decrease was found. This figure showed the decrease was faster than natural decay
Distribution map showing transition of the air dose rate within 80km radius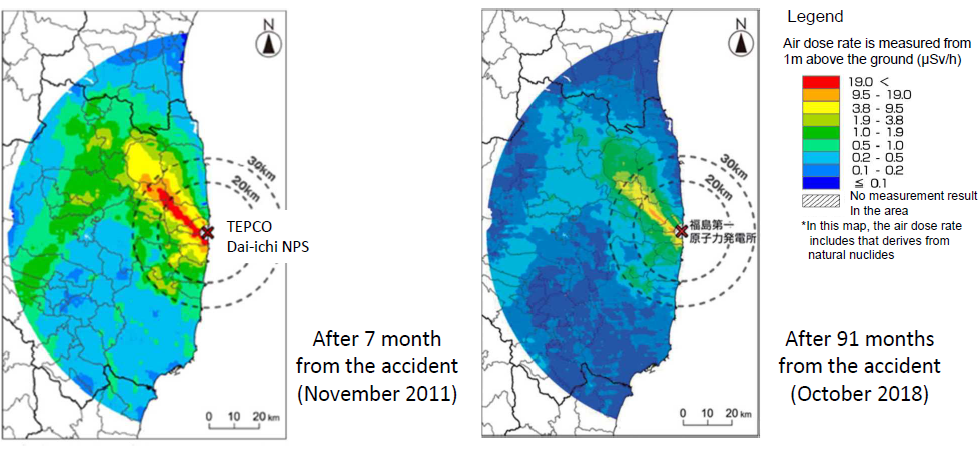 Result of airborne monitoring in and around Fukushima Prefecture (as of February 13, 2017, NSR)
Scale of Decontamination Project
The MOE has budgeted approx. 2.6 trillion yen (= USD 24 billion) until FY2016 for decontamination of both the SDA and the ICSA. 16,000,000m3 of contaminated soil and wastes is estimated to have been removed.
Decontamination in SDA
From the above volume of soil already transported from TSS*1: approx. 1,000,000m3 (as of the end of January 2017)
Decontamination in ICSA
From the above volume of soil already transported from TSS*1: approx. 1,100,000m3 (as of the end of January 2017)
*1 : Volume transported either to the ISF or to Temporary incineration facility
Image of Satoyama Restoration Model Project