About this program
In March 2017, MOE completed the whole area decontamination in the Special Decontamination Area (SDA) excluding "Areas where Returning is Difficult" based on the Decontamination Implementation Plan. The groundless rumors or misconception, however, still exist about the progress of Environmental Remediation and regeneration of Fukushima area in the international communities. Therefore, Ministry of the Environment Japan (MOEJ) cooperated in producing the TV program "Fukushima Today" to show what is really going on Fukushima to the world. This program, which will be broadcast in 4 series, focuses on the key persons in Fukushima, showing you how hard they work to revitalize Fukushima.
On-air date : [Initial Broadcast] December 31 (Sun),[Rebroadcast] December 31 (Sun)
Broadcast countries and regions : Brunei , Cambodia , China , Hong Kong , Indonesia , Japan , Korea , Macau , Malaysia , Myanmar , Papua New Guinea , Philippines , Saipan/Guam , Singapore , Surilanka , Taiwan , Thailand , Vietnam
Number of broadcast households : 17,970,010 (Including hotel rooms 298, 632)
Was this video helpful?
Contents of the program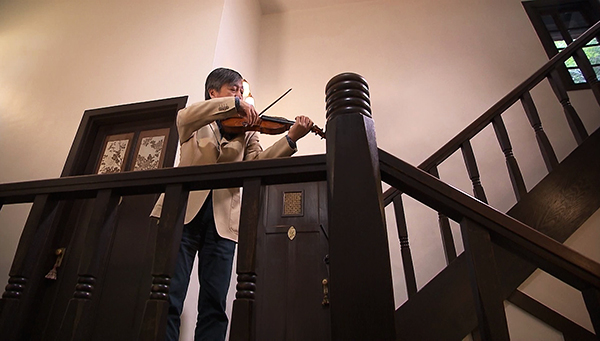 Ryugo Hayano, The University of Tokyo Professor Emeritus, is a world-renowned researcher of antiprotons. For the past six-and-a-half years, Hayano has been commuting between Fukushima and Tokyo although he had no previous connection to the region. It all started with the accident.
I heard the news that cesium had been detected at Fukushima Daiichi.
He started tweeting immediately and kept posting his opinions as a physicist.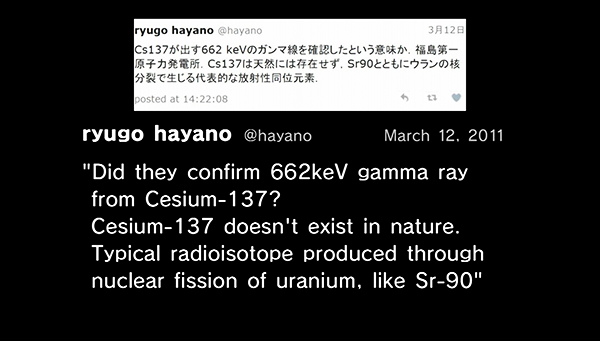 He tweeted out of surprise because a substance that should be contained inside the reactor had been released into the air.
Within days, Hayano had more than 150,000 twitter followers, and people anxiously waited for him to post information.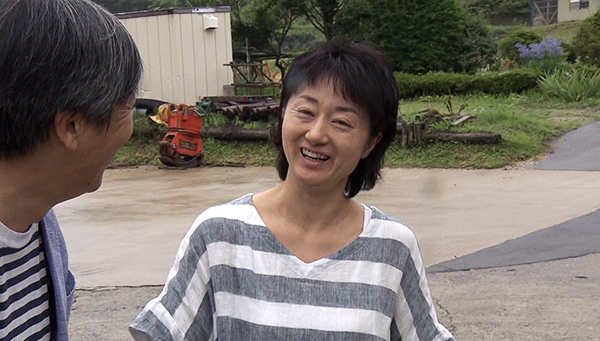 It's been a while since Hayano last visited Tamano in Soma City, 47 kilometers northwest of Fukushima Daiichi. In April 2012, Hayano collaborated with Soma City to install real-time dosimeters in buildings and school routes. The data showed that indoor radiation levels were far lower than levels outside. Many Fukushima residents were worried about the health risks posed by radiation. He answered their questions one by one. People praised his attitude towards his work. Ms. Otsuki, local resident, said," Many people have met Prof. Hayano. Those who met him during the toughest time after the earthquake were fortunate."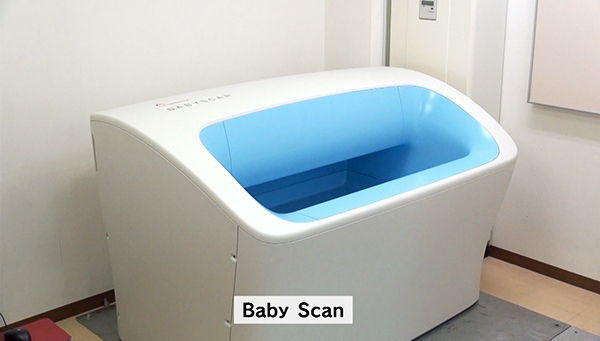 In 2012, Hayano received another request.
The whole body counter measures the internal radiation exposure caused by consuming contaminated food. But it cannot be used for babies and infants. Parents wanted to have their small children tested.
A hospital told me that many mothers wanted internal exposure tests for children who were too small for the existing device.
To respond to the mothers' wishes, Hayano worked with a dosimeter company and designers to produce the "Baby Scan". The project took one-and-a-half years to complete. He adhered to his principle–-look into the facts and show data to enable people to make their own decisions.
Hayano said," It's important to provide people with their own data so they can feel assured. I hope the scanner can help to achieve that." 3 baby scans were introduced in Fukushima. They have been operating for 4 years. No infants with internal exposure have been detected.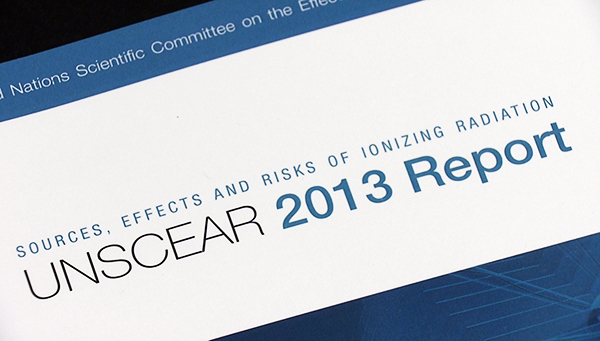 In 2013, Hayano released a paper stating that Fukushima's internal radiation exposure is extremely small compared to Chernobyl. From October 2011, he collected data from 33,000 Fukushima residents for one year. His report was adopted by the United Nations Scientific Committee and was published in the prestigious journal, "Science".
He said," It was the first English article on internal exposure data for a large number of Fukushima residents. Looking back now, I'm glad that I wrote it."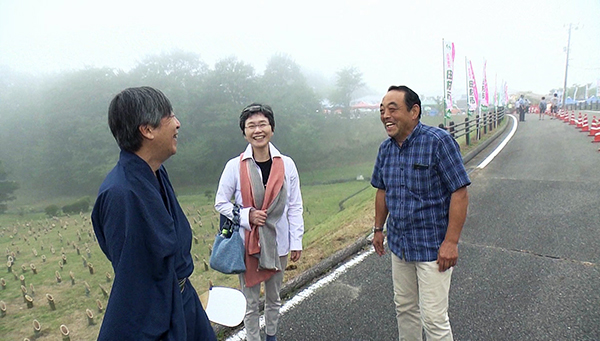 An evacuation order was issued for Miyakoji after the accident. When visits were allowed the following year, Tsuboi came to his field every day from his temporary home. But he was worried about the radiation and couldn't decide whether to return after the order was lifted.
Tsuboi and Hayano were connected through this device. The D Shuttle constantly records external radiation exposure. The data from D Shuttle showed that there were no distinct differences between the exposure levels when Tsuboi was at his temporary home or when he was farming.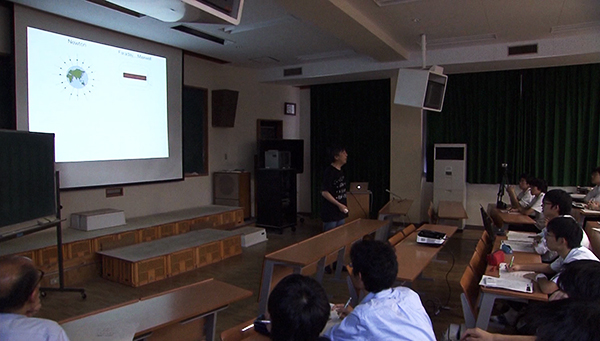 Hayano gave a special lecture at Fukushima High School in October 2013. It was a highly motivated class. I gave the lecture in English, and the question-and-answer session lasted for two hours. I was deeply impressed by the intellectual curiosity and eagerness of the students.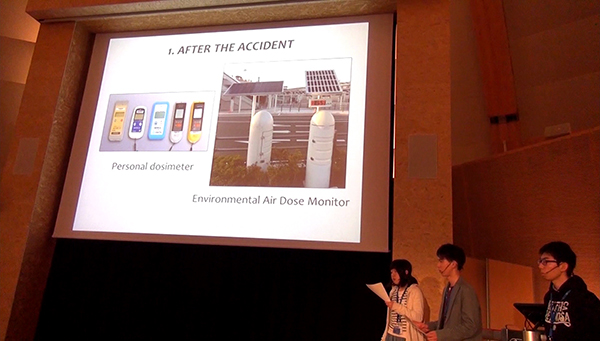 The following year, he led three high school students to the CERN research institute in Geneva where he is a researcher.
At a high school students' meeting on nuclear energy, they informed others about the current conditions in Fukushima.
The students were asked, "Are there people living in Fukushima?"
When he saw that, Hayano wanted to help these young students answer questions from the world, and the event acted as a catalyst for him to think about what he could do.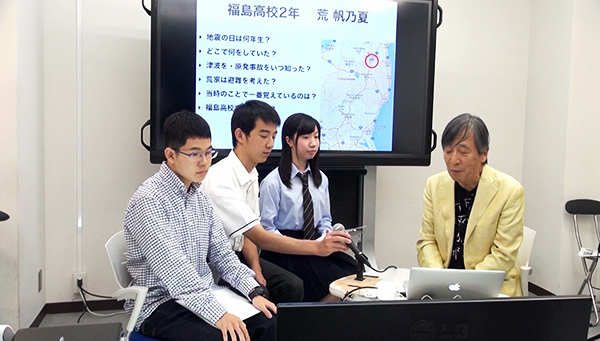 On this day, the students appeared on a program for an online tutoring school. The program aimed to minimize misconceptions as prejudice against children in Fukushima. The high school students explained that life is returning to normal and that there are thorough safety measures on agricultural products.The interview was aired live via the Internet. Some people commented that their perceptions of Fukushima had changed.
October 2017. The University of California, Berkeley.
The center for Japanese Studies at UC Berkeley and the national institute co-hosted an event on Fukushima. Upon Hayano's suggestion, the 3 high school students participated as presenters.
After the earthquake, the clock had stopped ticking in many people's minds. Hayano wanted people to have a better understanding of how Fukushima is today.The event was a great success.
Hayano said,"I'm grateful that many people and the media came to the event. The students spoke about the current conditions in Fukushima and expressed their visions for the future. It was a great event. Thank you very much."
---