About this program
In March 2017, MOE completed the whole area decontamination in the Special Decontamination Area (SDA) excluding "Areas where Returning is Difficult" based on the Decontamination Implementation Plan. The groundless rumors or misconception, however, still exist about the progress of Environmental Remediation and regeneration of Fukushima area in the international communities. Therefore, Ministry of the Environment Japan (MOEJ) cooperated in producing the TV program "Fukushima Today" to show what is really going on Fukushima to the world. This program, which will be broadcast in 4 series, focuses on the key persons in Fukushima, showing you how hard they work to revitalize Fukushima.
On-air date : [Initial Broadcast] December 24 (Sun),[Rebroadcast] December 24 (Sun)
Broadcast countries and regions : Brunei , Cambodia , China , Hong Kong , Indonesia , Japan , Korea , Macau , Malaysia , Myanmar , Papua New Guinea , Philippines , Saipan/Guam , Singapore , Surilanka , Taiwan , Thailand , Vietnam
Number of broadcast households : 17,970,010 (Including hotel rooms 298, 632)
Was this video helpful?
Contents of the program
Takawa Seimitsu in Minamisoma. The company specializes in metal processing and the manufacturing of machinery.
Founded 40 years ago, it boasts high precision products that can't be imitated.
Koki Watanabe is the founder's son.
He has produced an underwater exploration robot with aid from Fukushima Prefecture.
The manufacturing sector is not a growing industry. I wanted a new core business for the company, and I envisioned robots.
Fukushima Prefecture is promoting policies to nurture the robot industry to serve as an impetus for reviving the regional economy that was affected.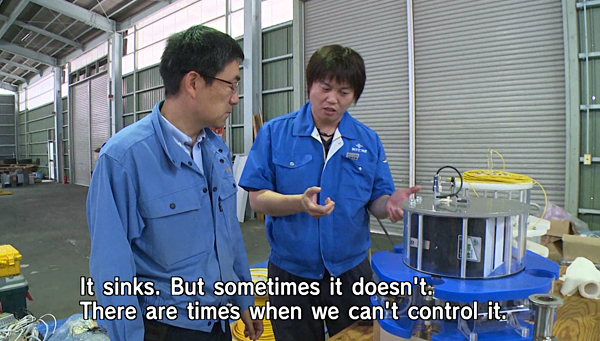 Using the water tank, the underwater exploration robot created by Watanabe and others is put to test.
During a natural disaster, its aim is to search for missing people in waters that are dangerous for divers. It moves freely with eight propellers. He thinks,"We need to repeat tests many times and are lucky to have the facility close by."
Something seems to be bothering Watanabe. He takes the robot to the company that developed its control unit.He finds that the problem was caused by a disconnected optical fiber. Watanabe says,"Every time we overcome a problem, it becomes a new strength."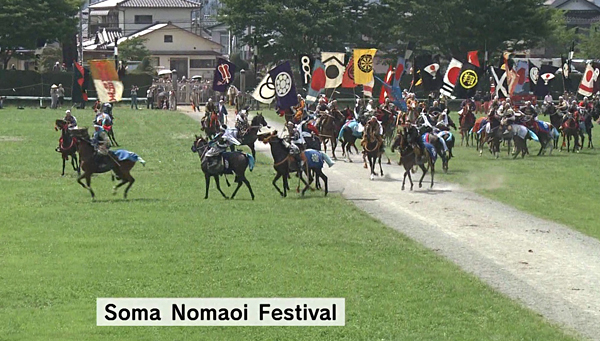 Horsemen in samurai armor compete in the Soma Nomaoi festival. It dates back more than 1,000 years. On the night before the festival, children parade the streets carrying floats. Watanabe works behind the scenes.He said,"Children are the future. They are a symbol of the future. Seeing them makes me feel that we're recovering."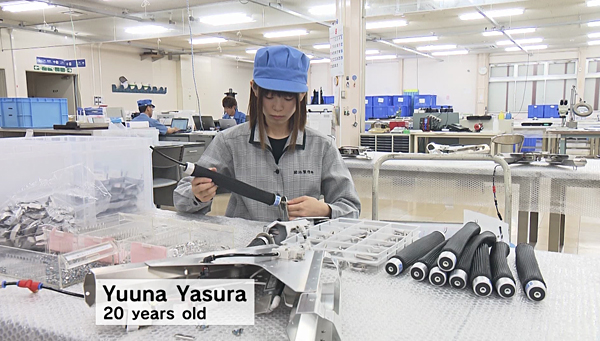 20-year-old Yuuna Yasura was born and raised in Minamisoma.
She works at a local factory, Kikuchi Seisakusho.
Her job is to assemble robots.
The factory where Yasura works is located 16 kilometers from Fukushima Daiichi. Decontamination work to remove radioactive substance has been completed and the factory resumed operations in 2015.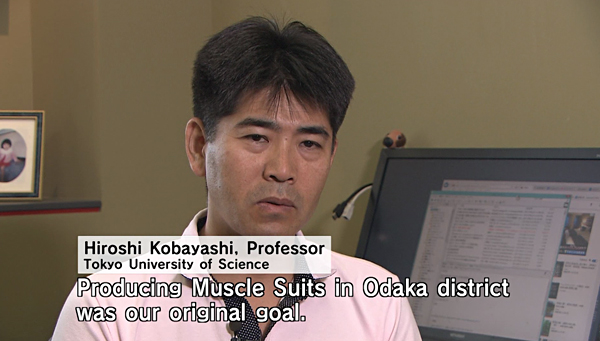 The "Muscle Suit". The wearable robot that helps people carry heavy objects. Its developer is Hiroshi Kobayashi, Professor, Tokyo University of Science. Artificial muscles allow the robot to move smoothly. Kobayashi said," Producing Muscle Suits in Odaka district was our original goal. I hope we can help revitalize and promote the area."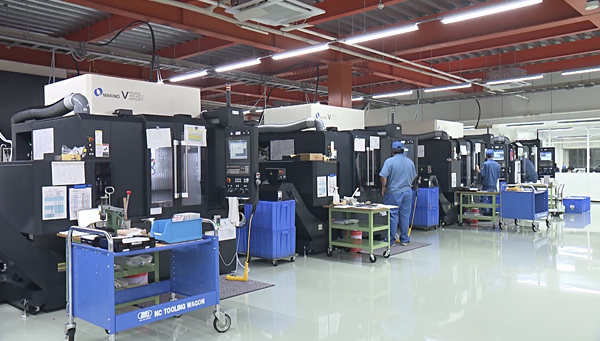 Other than the "muscle suit", Kikuchi Seisakusho also makes large Drones and prototypes of other products. Most workers have been employed locally.
Yasura loves creating things and truly enjoys her job. "I enjoy my work. It's rewarding to see small pieces being put together to make a complete product. I'm proud to be part of the robot industry."
A robot test field will be built here.
The construction of a robot test field is underway.
Fukushima Prefecture is building a test field to promote robot development. The 50-hectare field will have a runway, a huge water tank and a tunnel for various experiments.
---